SwissBorg Streamlines DeFi Trading with Redefine's Comprehensive Risk Management Solution
About SwissBorg
Founded in 2017, SwissBorg has rapidly established itself as a key player in crypto financing and investment, notably in Europe. After the successful launch of their crypto app in 2021, SwissBorg amassed a user base of over half a million, built an impressive team of more than 200 members, and amassed over $650 million in managed user crypto assets. With a mission to democratize wealth management and replace the traditional VC model, SwissBorg recently closed a Series A community funding round, raising an astounding $23 million from over 16 thousand investors.
The Challenge
Navigating the intricate landscape of DeFi trading, SwissBorg sought a solution to streamline transaction security, optimize approval processes, and provide swift detection of potential threats. Their objective was a user-friendly tool that offers real-time, actionable risk insights without compromising efficiency or operational security.
The Redefine Solution
Redefine's risk management suite proved to be SwissBorg's answer. "Redefine's product has become integral to our operations, enhancing our trading activity's safety and streamlining our workflow," states SwissBorg. Redefine's tool delivers real-time risk reports via a browser extension and a specific Slack channel, bolstering security in every transaction and providing wide internal visibility.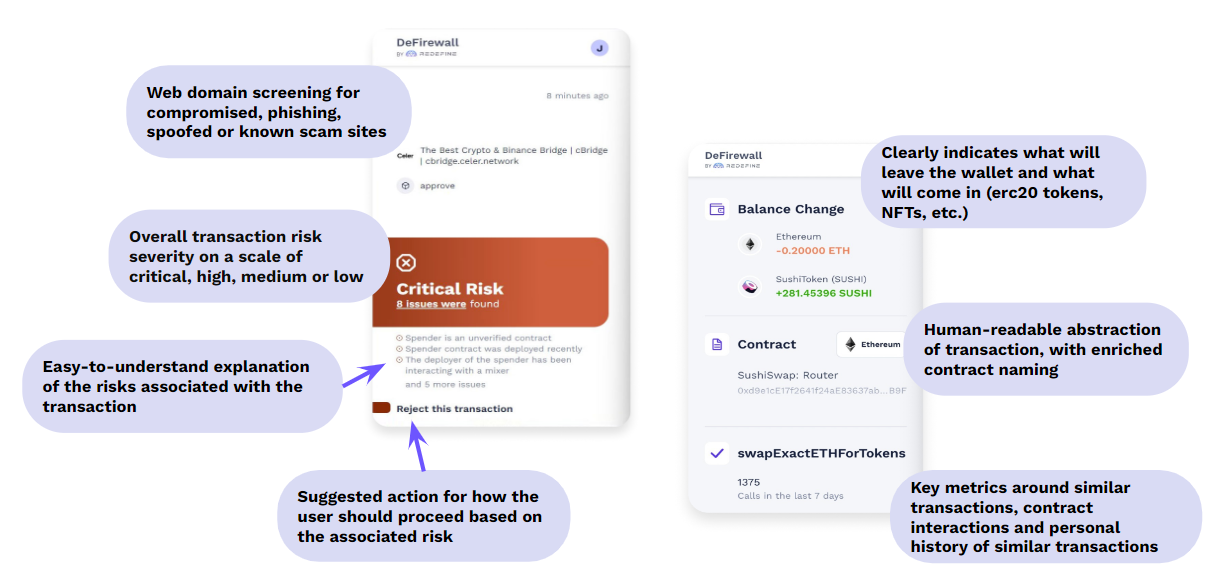 Moreover, Redefine's Approval Manager provides SwissBorg with an organized overview of active token approvals across all wallets. This enables swift detection of potential threats and facilitates revoking batches of cross-wallet and cross-chain approvals, effectively managing SwissBorg's DeFi security.
Redefining Partnership
SwissBorg has experienced more than just efficient onboarding with Redefine; their ongoing relationship is characterized by the continued support and collaborative feature development. "Redefine's team has been exceptional in guiding us through the process and addressing any concerns promptly," affirms SwissBorg.
The Impact
Armed with Redefine's risk management solution, SwissBorg has significantly enhanced its DeFi trading operations. Through secure transactions, real-time risk alerts, and efficient approval management, SwissBorg can focus on its mission to democratize DeFi investments and redefine wealth.
Redefine's risk management platform can elevate your DeFi trading operations' safety and efficiency. Contact us today to learn more.
About Us
Redefine offers advanced end-to-end security solutions for DeFi investors and traders. Our platform supports our customers throughout their DeFi investment journey. We provide customers with a dynamic risk score, real-time risk monitoring of their portfolio, and active features that save investors' funds in case of an attack or indication of imminent financial loss.
Follow us on Twitter and LinkedIn, and use dApprovals, our approvals manager for free.
Feel free to contact us by Email.